At least five persons have been killed in a suicide bombing attack on a police checkpoint in Damaturu, the capital of Yobe State in Nigeria's volatile north-east region.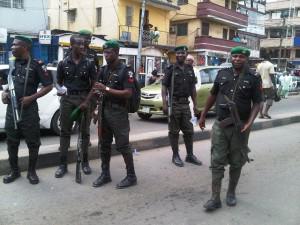 The suicide bombers in a Highlander jeep detonated Improvised Explosive Devices at the checkpoint on Monday.
Channels Television gathered that the bombers were trapped at a checkpoint and the police were to take them to the police headquarters for further interrogation when the suspected terrorists detonated the explosives.
The spokesman for the police in Yobe State, Mr Toyin Gbadegesin, confirm the incident.
He said details were still being expected.
Channels Television's correspondent in Damaturu, Jonathan Gopep, said he had seen five corpses at the scene of the blast.
Some others that were injured in the attack have been taken to the Damaturu Specialists Hospital.